Cold Room Bumper Rails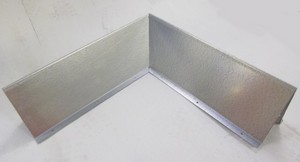 Wyvern Sheet Metal manufactures bumper rail wall protection and floor overlays for a variety of applications.
Our wall guards provide protection from damage caused by cold room traffic and equipment.
Fitting bumper rails and floor overlays can save time and money in the long run. All our bumper rails and flooring overlays are custom designed for individual cold rooms, and can be punched and counter-sunk to client specifications. They are functional, attractive, hygienic and tough enough to withstand heavy traffic and low temperatures.
Call Wyvern to discuss bumper rails for your cold room.